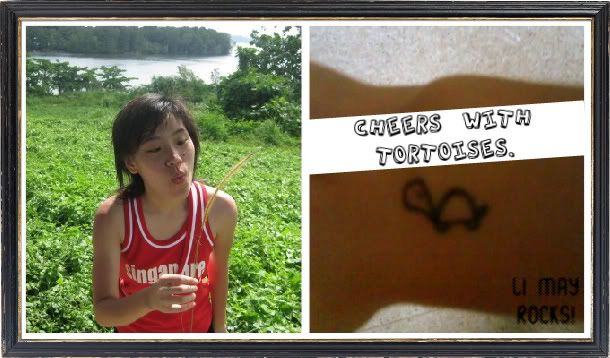 Hello folks, greetings to you. My big name is GOH LI MAY, call me Li May will do(:
1st day of sch after 1 wk
Date:
Monday, September 15, 2008
Time:
10:35 PM
YAWNS*
logged in re-link MAMAT, my ex-junior. lmao. honour?
not only that, back to report about today too.
somehow or another today is like my first day
in school after that 1 week of not-holiday holiday.
woke up at 7am and realise that Monday morning extra english enrichment starts today.
oh damn, so i am late? arhh well, go back to sleep. woke up again at 8.30am for school.
a good news from fellow classmate perk to up a little.
our class will be having our lessons in the library this
2 weeks because 2 NEW sets of air con will be installed
to our classroom. like HAHAHA? roflmao, whatever...
Mondays are always like this.
it came unwillingly but the day
will passed away quickly.
yeah, no more monday blues. HAA.
okay Art deadline is Wednesday?
great! materials were yet purchase,
still in art Friend waiting for me. haa.
thus i dashed home, changed and went Taka with
some artists to get materials purchased. it costed
me another bomb. omfg, 3 things for $30 odd.
oh ya by the way it was Bitch Tan birthday on Sunday.
we celebrated with her from Saturday noon over to
Sunday morning, 2am. HAA. alright i shall not elaborate
any further or you will be seeing 1 whole 2000 words of
composition. HAA. yes lengthy one...
with that, i shall bid goodbye:)