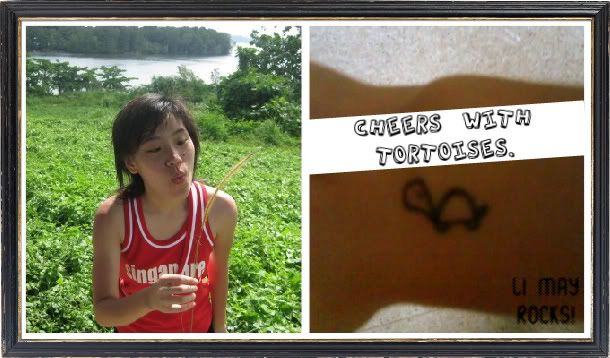 Hello folks, greetings to you. My big name is GOH LI MAY, call me Li May will do(:
holiday
Date:
Friday, September 5, 2008
Time:
12:59 AM
to kick off, have you checked out my gas friends yet?
haa. my September holiday started yesterday and it is ending
tomorrow. fast right? classes on Monday and Tuesday wasnt
fruitful at all but i should not say that it wasted my time too.
i got to know that Art coursework deadline is 2 weeks later!
damn i still have 8 A2 preparatory boards to complete!
Rrrr... my head is expanding with immense aching!!!
2 third of last year's history repeated.
the remaining 1 third will be pinned on
my final work. hope i can finish all nicely
as a whole to impressed that harlot.
oh well, went out with bitches today. haha. laughter as usual.
on top of that Shu and i witnessed Singapore one and only milk
tea merlion. WAHAHAHA. who's that? look who's fuming with
wrath and you will know the answer! HAHAHA.
and... arh nevermind, i am roflmao again...
the 2 Punggol bitches should know! HAHAHA!!!
drink? K box? gym? dial or text me:)
we shall enjoy indoors despite the unrelenting rain.
before i end,
1 Sept Happy birthday to Sis and Jess
5 Sept Happy birthday to Bro and Gigi:)
more to come! i have starting counting already!

okay, goodnight.