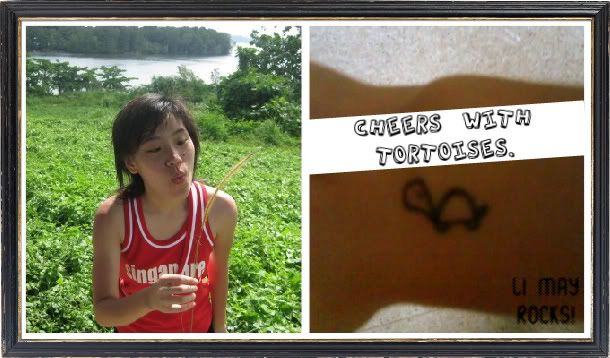 Hello folks, greetings to you. My big name is GOH LI MAY, call me Li May will do(:
ponggol marina
Date:
Thursday, September 25, 2008
Time:
5:09 PM
saw my report slip on Monday. 3 C5 1C6 and 1 F9.
haa. L1R4 22. my O level will be better:) hey my
attendance was 180/191? like wth? incredulous.
well, i cant take it back because i
refuses give my report book. haha.
as for today i skipped school deliberately. reason being today
will be a long day in school, i was too tired and i want to sleep.
hehehe. with that it sum up that i was absent from school for
3 consecutive Thursday. if anyone was to trace this up i will
be in hot soup. save that! they're not that efficient.
they pay lips service too.
Yesterday, i had an enthralling night with classmates to Ponggol Marina.
we embarked in the evening through a long route in the serene forested
area. before we even arrived, the sky was already dark. settled down for
an alfresco steamboat dinner. the embience was so romantic. it would be
better if the mosquitoes dont come to me. itchy! we were totally famished
and devoured down all the cooked food in the pot. 3 rounds, the man
topped-up our pot for 3 times. the remaining of the soup goes to whoever
that lost a game we initiated to play. HAHAHA. soup plus sambal chilli.
J got all the last 3 bowls of sambal soup. haa, all thanks to me, i bought it
to her. TEEHEE. sole winner was E and aX. hand in hand and off we go
exploring the place. we took a couple of pictures at the sleeping pier.
head for home aftermath.
there was an ominous silence so we played songs
to draw our mind away from that. well, a van came
to aid immediately. he was willing to give us a lift
out to the main roads. HOORAY! we were a crazy
bunch behind the messy van boot. haha. aX sat in
front all by himself lah! humph!
as for today i was soundly asleep and woke up at 1pm
while others were slogging their way out at work(school)
wahaha. okay i need to do some revision now.