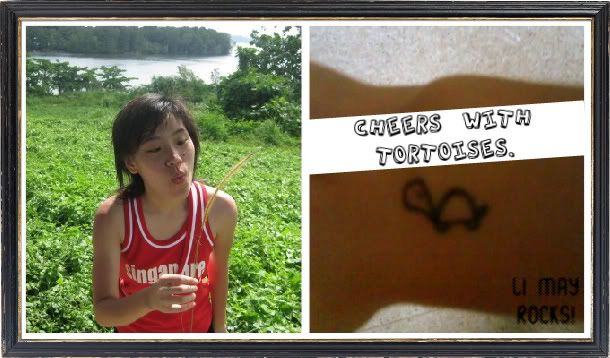 Hello folks, greetings to you. My big name is GOH LI MAY, call me Li May will do(:
sat morning
Date:
Saturday, September 6, 2008
Time:
2:55 PM
gorging myself on the cake bro blown yesterday...

yesterday was a rather busy day for me.
woke up, thought of things i could do to
salvage my Art.

ran over to Jo house at 2.50pm to take some pics for Art.

rushed home changed and met KKB and gang for pool.
haha, dry one, no tiles but with colourful balls. HAHAHA.

with burden G that kiddo look, the auntie at Hougang Plaza
gained suspicious on our age. yes, she demand our identification
card. oh well, our desired game was abolished. head down to Kovan
for Iced Pool or whatsoever. yes, we got in at a higher cost. damn.
i played for about 30 minutes and my phone rang. argg, dinner
was changed to Swensen again. handed my cue to G and stomped
to Heartland Mall. for? this Mango Delight cake i am eating...

yes, Compass Point via the train.

Swensen had a long good queue. thanks man...
that added more fuel to my anger. well, a famous
saying always go A Hungry Man Makes An Angry
Man. yeah, so true, i walked away leaving that
person who initiated Swensen on the queue.

level 2 Mobile3; A killed my 5 minutes, i killed his too. hahaha.

BBQ Half Chicken was adequate enough
to fill my angry and hungry stomach.

next, Happy Fire House was served for bro.
and, the bill was a $100++? haha, all to him.

i just merely let some expired air out of my mouth and
the 2 big candles on the cake went off. omg. i am proud
to be a brass player. teehee... bro had to relight it apart
from the fact-or-not that it is not auspicious. haa, whatever.

i ate a thin slice yesterday but a mountain-slice
this morning as breakfast. haha. the Mango Delight
is so delight that the mango brought a bit of sourness
too. you know the taste between ripe and not ripe?

well, my day started a little late today at 2pm(breakfast).
so... let me see what i can do to my debacle, art... haa.

dinner with A13s at LJS:)

farewell.