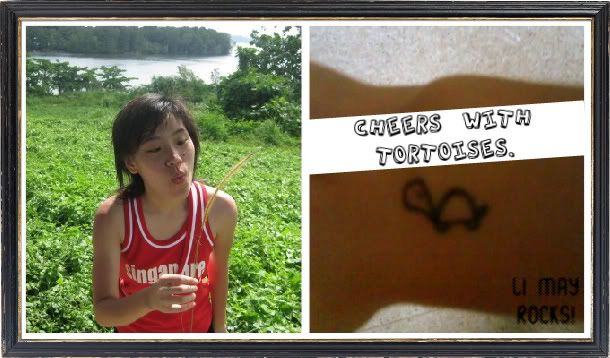 Hello folks, greetings to you. My big name is GOH LI MAY, call me Li May will do(:
last day of sch
Date:
Saturday, October 11, 2008
Time:
12:24 AM
blurpx* it's 12.30am now and i just finished my dinner.
it takes about 30 minutes to digest a little while it takes
another 2 hours or so for the enzymes to really work to
digest and break all the food. having late dinner is
definitely going to kill me in the long run.
well anyway i am so envious toward those who sat for End Of Year Exam,
N level and PSLE. like wth... they had finished their exams and O level had
yet started. damn damn damn. i got stuck into this shit for 2 years; N level
for 3 years. urghhh...
i am so-missing my secondary 2 and 3 days being a rebellious kid
and playing basketball with my team members all day. and i still
get to rank like top 5 in the whole school. what a fluke it can be right.
maybe i'm getting lazier by years.
treating the school as if it's my
Grandfather's school. reporting
to school at 9am, skipping school
as and when i deem as a boring day,
going home at recess time or signing
out. even mummy closed both eyes.
HAHA.
when i was asked
Where is your late-coming slip?
well, look into the bin i just crushed and chuck it:)
oh ya, by the way today is the last day of school for 4E5N pupils.
haha. actually it doesnt concern me so much because i had already
treated as a vacation even since after Prelim? ya. nobody cares a
hoot about it. look at my class, pathetic 12 souls out of 21.
hey, what's with that look?
i went to school today okay?
and took home a pile of papers.
after school i went down to bedok, where i lived before shifting to Punggol with my parents. ate at the restructured hawker center and went to look for granny. we walked a few blocks away to poke our noses into a wake preceed going home. it was the deceased famous dazzling getai star (LinLi) who hit the headlines of newspaper this few days. there are many nicely decorated ornament, vehical. i heard it is costly.
this is him.
vehical to ferry his coffin.
home aftermath and was soundly asleep till 11pm.
next Thursday, Practical.
whoo, i'hv been waiting.
i'hv been anticipating for O levels to start too!
all the best to my JUNIORS. haa.