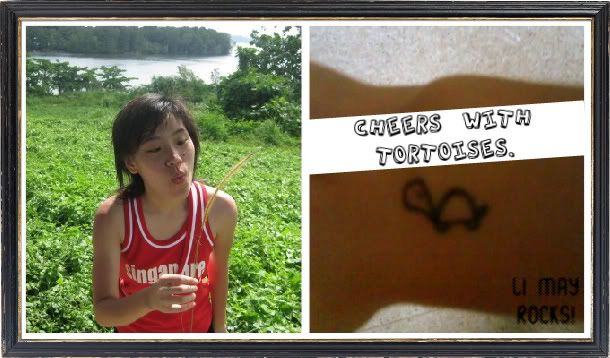 Hello folks, greetings to you. My big name is GOH LI MAY, call me Li May will do(:
Hari Raya C'dren Day
Date:
Thursday, October 2, 2008
Time:
12:09 AM
kind of neglected this blog? haha, told you...

mmm... let me kick off with last weekends.
it was Saturday and a bunch of boozers met up over at A's place. gathering? we drank, played and were laughing away hysterically for every matter. just to get high? roflmao. apologies to his mum who was at home. HAA. till around 1am, had supper and left for home.
my family had a gathering too. booked a room as usual and
of course barbeque-ing ensued. i must say their BBQ skills
are superb! ate my fill. my 100% cooked, edible and savoury
fill. before the clock strikes 8pm everyone was ready. for?
haa. through televison we witnessed F1 revved up the nation.
what a thrilling sport. i must set my butt on the cars one day.
Ferrari! red:) so cool lah. the race made us speechless.
those who bought Alonso... easy money! 1:28.
but i guess no one thought of it, it was a difficult
guess. everyone only had MAS or HAM in mind.
No Beers After 12am.
that was what i learnt when i met S and K(they aint jewellery)
for a drink, an inpromptu one. a chat with green tea on the table
and between puffs of smoke. 2am and all head home.
i really misses all of you. D and H...
V, so are you! we were ALL TOGETHER
and that's so so fun. really really misses all of you.
till then. goodnight folks.