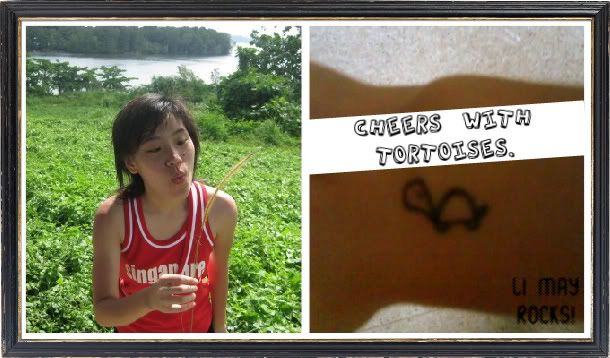 Hello folks, greetings to you. My big name is GOH LI MAY, call me Li May will do(:
3nov is freedom
Date:
Monday, November 3, 2008
Time:
5:00 PM
deeli deeli da da...
i'm ecstatically over the moon! hehehe.
i felt as light as a feather when the CPE announced Pens down.
with immediate effect, the heavy loads of burden slipped off my
shoulders. phew, i'm free, i can fly. haa.
though SS paper sucks to the core to me but i'm happy that it's over.
end of misery. i dont know what that fucking question asked for neither
do i understand the information about the countries in dispute. i wrote
2 pages of rubbish for SBQ. 2 full pages of rubbish waiting to challenge
the marking skills of the markers. those Singaporean markers will get
pissed, vomit blood, curse and swear then finally faint upon reading
what the wise me wrote. hehehe. good game:)
as for SEQ... okay lah at least i have some logical factors
with some mixture of rubbish. haa. 2 pages too. i must
make a point that this is the worst paper i ever did.
for now champagne out, let's celebrate!
haha science paper 1 is 8 days later,
child's play... i'm aiming for perfect, full mark.
jumping around...