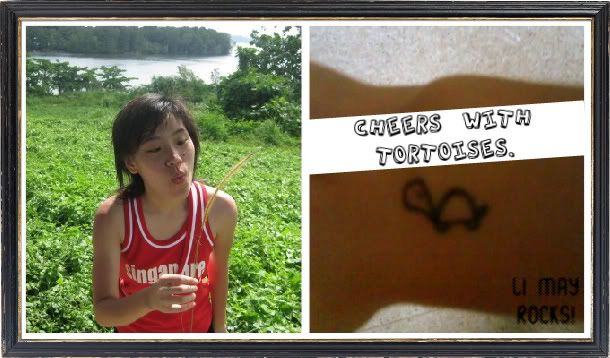 Hello folks, greetings to you. My big name is GOH LI MAY, call me Li May will do(:
band camp
Date:
Saturday, November 29, 2008
Time:
4:33 PM
yeah, back from Band camp.
although i only joined the camp on the 2nd day, it's
remarkably more enjoyable then the last camp in June.
in the June camp i need to juggle between Art course work
and band practices. i ran between art room and music room.
i stressed about both Art work and music scores.
damn, how depressing lah.
my day in camp starts on the 2nd day of the entire camp.
the whole Band set off
to Sentosa by bus. the weather is quite
magnanimous to us, there was only a
smattering of
rain. however
the sun baked us into red pipping hot humans. haa.
we played
a few games
and had lunch or rather tea break? haha. before
going
back to school. yes of course a
picture was taken to
enshrine the trip together.
credits to Mr Tan WL for this photo.
i slept soundly throughout the bumpy bus journey back to school.
went home with Shu to bring our barang barangs for the night.
had band practice till dinner. after dinner we had night practices.
cool erh. G KKB SP and i was playing Twinkle Twinkle Little Star
at the balcony to the star. hahaha. so lame... lmao.
packed up, Wii-a-little, SPC then movie marathon.
on screen was Swing girls. watched it like 2 years ago?
yeah... but it's okay. we still had fun with the chairs.
1.30am, back into sleeping bags. as the night lingers...
we were awaken before rise and shine time.
took a cool bathe thence SPC for fruit juices.
bitches breakfast was roller coaster rings and juice/ soy milk.
Lee went off for school while Tan for work. as for Low and i we
went for band practice. they were marching. so we watched by
the side then later i played the tom-tom. wonderful experience.
on track, ready to go.
accustomed, the camp wrap-up with a photo taking session.
me: erh, go there or i push you down for a swim.
WeeKit: huhh?! oii... dont leh...
hahaha. home sweet home.
random.