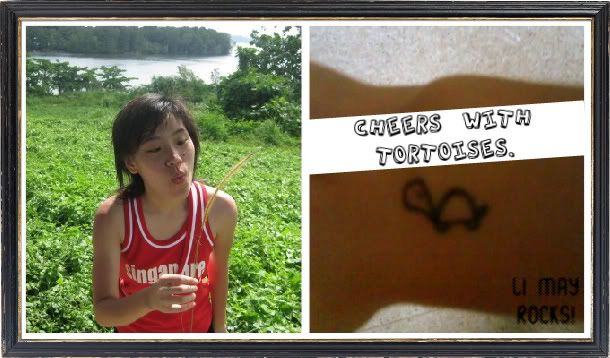 Hello folks, greetings to you. My big name is GOH LI MAY, call me Li May will do(:
a friday Friday
Date:
Sunday, November 16, 2008
Time:
3:15 AM
seriously i dont know what am i looking forward to already. i used to count-down to, outings, oversea trip... and now, nothing? this holiday is so different than last year. last year was a total madness one. events lined one after another. oof... in no time i guess i will miss studying again. yeah, how contradicting i am erh.
anyway yesterday was...
omg i need to type out like everything again?
for the third time? arhhhh... no way...
okay, super summary skills.
met people and went TP Band concert.
dashed down to town in bus 581 and took
a cab from Hyatt Hotel to Pines country club.
walked down to Cineleisure aftermath. i had
my lunch-dinner at XingWang Cafe followed
by lots of craps and photos. N6 home sweet home.
perfect! that's all the main points(:
Cubee with B-Goh(me), B-Lee, B-Tan(can see her?), B-Low.
(:

Cubee and my Jelly bean dispenser from Capsule Station.
oops, it's another Sunday again.
the time now is 3:08am and i am
going to have my nightmare now!