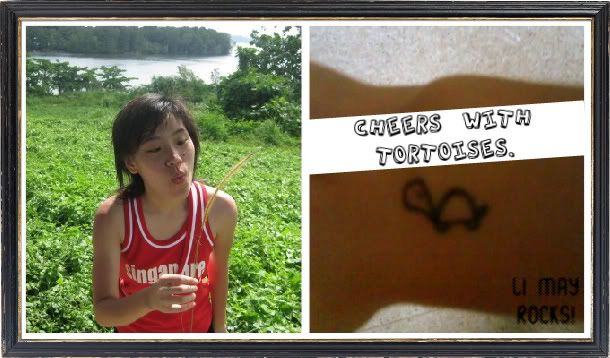 Hello folks, greetings to you. My big name is GOH LI MAY, call me Li May will do(:
officially
Date:
Tuesday, November 11, 2008
Time:
10:11 PM
9am. my 2008 O level last episode. HAHAHA!
once again over? great.
checked my answers for Maths. got 42/100. ya, fail.
haa. just hoped that some moderation can pull me up.
today's Science paper one...
for the Chemistry section i got 14/20.
ya, far far far from my full mark goal.
haix. as for the biology section...
have to wait for MissLim or Ng.
head Bugis for shopping spree. next time better have more
capital in hand(or bank) before heading for a shopping spree.
i am currently attracted to some happening in my block's vicinity. ohh someone died and they are doing some kind of recital, chanting... i am attracted to the tok tok tok and the ciang ciang ciang of their.. instrument? ya. this is music too. hehe. seems really interesting leh, i have a strong urge of going down and be nosey parker. haa. but some religious stereotype beliefs from elder generation said that it is not prosperous to do so. erh, whatever. i shall see them burn their paper car or house.. incense(from my window). a rather massive one. i supposed is complete combustion but with excessive of carbon monoxide, sulphur dioxide.. and of course carbon dioxide. i drifted to Chemistry again. mmm... i need to forget!
time to get a job too.
i want to be a bartender. haa(:
okay, till then.
can you like quit doing this kind of things?
always heard the word 'childish' from your mouth to others.
do you realised the word is actually for you?
if you dont know, i'll tell you. You Are Childish.
you are near tt and yet still up to these kind of things.
laughable? this is absolutely absurd. you are no different.