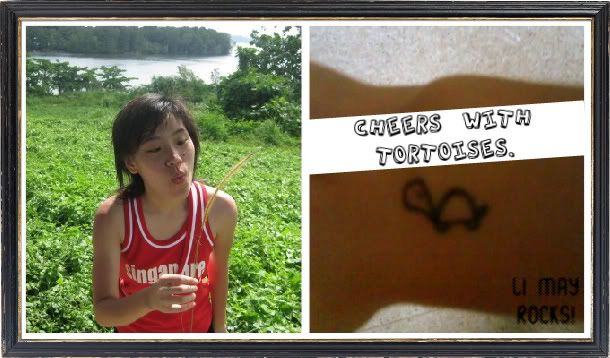 Hello folks, greetings to you. My big name is GOH LI MAY, call me Li May will do(:
yayy!
Date:
Monday, November 10, 2008
Time:
12:44 AM
okay, so my room's clashed desktop is substituted with this "turtley" laptop. this Compaq is frigging slow in processing things. low efficiency. i can click something, move my butt off the chair, feets on the ground and do a couple of jumping jacks. i really tried and the time is just right. hahaha. can imagine? yeah sound like a fool, look like a fool too.
well anyway, went for NCO camp Passing Out Parade on Friday, 7 Nov.
venue was CCA Branch, where i was trained too. the feeling was ohh-so-
great like recollecting memories from 3 years ago? met up with Shu(who
played with our innocent feelings) then Low on train. next it was Black
and "Bird mother" MrsOwYong followingly.
the performance this year wasnt as spectacular and dazzling as past years.
i was pondering why the Band majors did not showcase their Display Band
Technique and playing at the same time. as for Drum majors okay lah...
the performance was easy? not much pattern leh. however at the back of
my mind i knew all these is hard work and effort. it counts. and most
importantly they acquired a new skill.
do you think baking yourself under the scorching sun in 5 days is fun?
trained like crazy. run like world end. just to finish the agenda on the
trainer's clip board. i remembered 1 lady trainer she donned a sun visor,
long sweat pants and applied sunblock. for us?(DM) gloves, yeah right.
however for BM, they were soaked in their air-conditioner platformed
auditorium? nice one leh. they head out for outdoor training too.
right? (NCO camp go-ers) haha.
felt like going NCO camp again. it's so so so fun.
even with money, it cant buy you to camp there
like Outward Bound could. priceless! haa.
it's 1:11am, i better run.
i'm going to school to complete
my 65 Chemistry MCQ tomorrow.
signing off here(:
i felt like tagging over the other blog, X**H* you are frigging redundant. get lost.