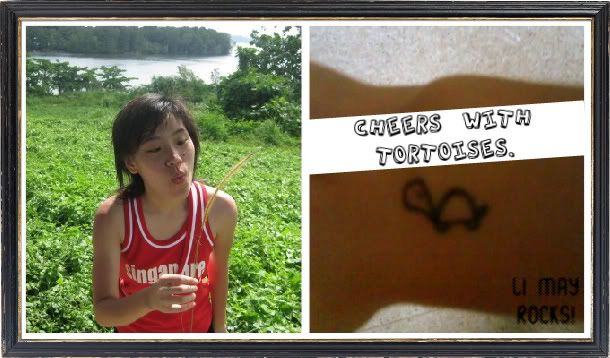 Hello folks, greetings to you. My big name is GOH LI MAY, call me Li May will do(:
Date:
Sunday, December 14, 2008
Time:
4:44 PM
enjoyed my Off Day yesterday. slept at 4am and woke up at 3pm in the late noon. like wtf more than half of the day is gone already. haha. should have turn up for gym workout leh.
met Shu at 3.30pm. first destination, Compass Point to meet a rare-to-be-seen old friend; Shu's dearest. haha. she was working and so we had to wait for her to be free. the last time i saw her was at... school? yeah, last day of 2007, during recess, eating together in the canteen 3rd roll 2nd table. cool arh.

waited and waited and these
round round but not ball figures came
dancing out to entertain us for the time being.
haha. after we chatter for a while Shu and i left Compass Point to Century Square.
Baked rice/pasta for dinner thence Ikea @ Tampines. whoohooooo!!! wahahaha.
when we were ascending the escalator this man in green was in front of us.
cute erh? in trend leh.
buy milk powder free bag.
milk powder for child bag for mum & dad.
well of course we had a LOVELY time at Ikea.
frying tortoise,
drinking air,
playing with moon.
bathing...

lookout into the busy city,
and riding on animals.
haa. hotdog bread and coke.
Denmark Daim chocolate then
returned back to Punggol.
settled down at 198 and awaits Black. we had a difficult time trying to see her as it was dark. sometimes i can feel her presence but couldnt see her in sight. haix, what a miss. HAHA! anyway we chat-a-little while our hands were busy dipping french fries into hot black pepper sauce.
the 3 of us then strolled the same usual route back home.
loud laughter always ignite at this time. aiya the people
staying by the pathment had already used to it already.
occasionally we the "drunk" people will give them these
surprises. hehehe. moreover we added some thing new
this time. we sang some dialect oldies song, very highly
pitched but of course out of tune. WAHAHAHA!
yeah our day ended on a high note!
with that today is Sunday and tomorrow is Monday.
DUHH who dont know? you deserve a slap yourself.
this week Night shift! damn.
alright, will blog again tomorrow but extremely no promises(: