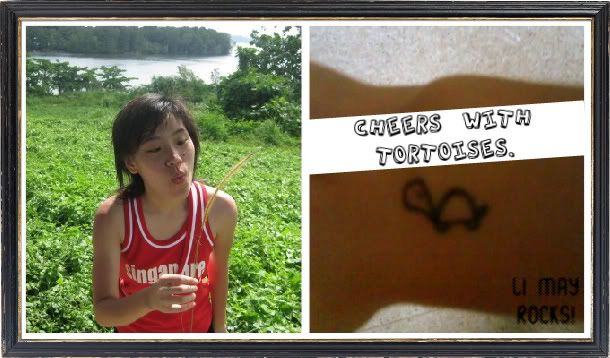 Hello folks, greetings to you. My big name is GOH LI MAY, call me Li May will do(:
Date:
Thursday, December 25, 2008
Time:
9:35 PM
firstly very glad that i have a good Santa Claus.
haha.
well he is Elfie! thanks for the USB aroma fan erh?
Thank You very very much(:
useful and i like it!
the aroma is for me as air freshener and the fan cools my lappy. haha.
wait, these are my fellow colleagues!
3 cheers! hey my hands are getting itchy...
i feel like going to Photoshop to do colouring.
dont you think the right-est face need some?
reached home late in the night, opened the fridge and surprise ensue.
i found strawberries and cherries, cant help but feasted on them before
my sleep. hey they flooded my fridge till i cant see my Marigold jelly.
so, what's Christmas? for?
collect present when you have not got enough from birthday?
a day to go out and spray people and not charged as vandalising?
or to see(illusion) the fatso in red that worked 1/365 a year?
hahaha whatever lah.
my day starts at 2.30pm again.
washed up and went out. met her
and had lunch with B. after that,
met them and went for steamboat.
i think i only ate $2 out of the $16 i paid. wasted.
walked in the rain but i wasnt drench!
i have super powers.(if you believe)
strolled, games of pool and strolled again.
back in Punggol at 1am,
reached home at 2.30am.
but slept at 4am. aww...
tortured myself by waking up at 8am.
went out and back at 11pm. melted into
the couch... hahaha. my house had nothing
left for me as lunch. DAMN.
sliced some cherries and threw them into my mug
which was filled with overnight Raspberry Vodka.
a bag of chips to go with and wtf, lunch was settled.
and i flew out again!
well, this Christmas, i experienced snow again. thanks.
hey i want present.
i want a Mazda 6,
red colour(do not accept toy model)
HAHAHA.
dont you think it's cool driving without an official
license around in the island Raffles found for us?
i personally reckoned that it's cool!
especially when there is a TP chasing
behind you and you outran them.
whoohoo... STEADY LAH... haha.
alright before i sign off,
M
e
r
r
y
C
h
r
i
s
t
m
a
s
!
Farewell.