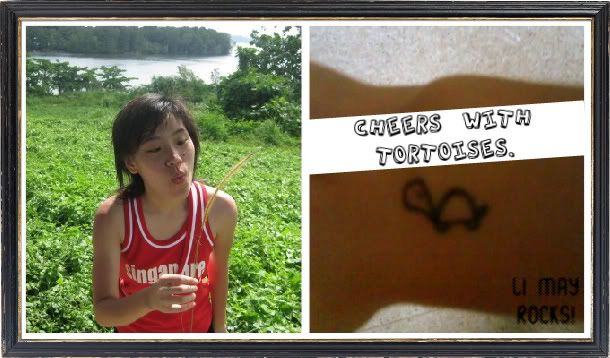 Hello folks, greetings to you. My big name is GOH LI MAY, call me Li May will do(:
it's monday, again.
Date:
Monday, December 22, 2008
Time:
2:08 AM
S.P. for your information it is not Singapore Polytechnic. it is Special Pack. yeah, did i get it wrong? well, some retarded just came happily to me and chop this on my hand yesterday. thanks erh i went dinner with this chop on my hand. Special Pack... ya, i'm special.
oh noo... it's 2.08am.
GOOD MORNING EARTH!!! (shaking)
yawns.
i'm mentally worn out.
racking my brain what to do.
urghh. come on where did
all my wild ideas go???
haix.
liar liar pants on fire.
i think i shall set my pants
on fire when Tuesday arrive.
well i went out today hunting for presents.
yes i manage to purchase something for that
old man in the office. nahh... i did not buy
walking stick, hearing aid, reading glasses
and neither did i buy laughing gas for him
to boost his sense of humour. hehe.
i bought him a.. ai ya dont tell you.
anyway thanks colleagues for giving me suggestions(:
Thank You!
now, my bed is getting really impatient.
bye.