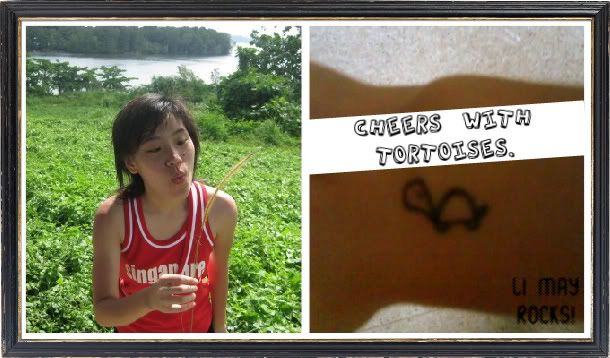 Hello folks, greetings to you. My big name is GOH LI MAY, call me Li May will do(:
random
Date:
Friday, December 19, 2008
Time:
11:49 PM
wow so N level results released yesterday.
how about O? i am so so so anxious for my
results for this year. really wonder have
i improved. haix. all the best erh?

i really prefer going to school than going to work.
went school, laugh play and of course learnt some
thing. we have an aim to pass each and every exam
or to top off. going work leh? like no aim. okay,
there is.. aim to go home. like wasting time can.
and everyday i can feel that a lot of energy is
drained away from me. it somehow shortens my life.

if you want to say for the sake of money.
haha absolutely no. we work like dogs and
they pay peanuts. every mistake is arrowed
to the Data Entry(us). knn lah.
why dont blame the people who wrote all those information? write also dont know how to write properly. need me to teach you how to write is it? huh? cannot be doctor then handwriting still want to act like doctor. write so cursive think very classy is it? ha ha ha, all my teeth are dropping lah. any thing just kept pointing at us think our job easy arh. read and type. kick the bucket please. i dont mind if we swap positions and you collect my bloody pay while i collect your handsome pay. Deal?

Nigel, the Irene whatever and the red curtain hair hag.
very happy right? everyday come in rant rant rant. come
on duds, bring it on! one day when the volcano in me
erupts you shall whimper. i will fire you with no remains.

although the friendship between colleagues are building up and
getting very warm, i still hesitate to report to work each day.

just like today. the time clearly read 12.10pm
on my watch and yet i am still in queue to buy
my breakfast-lunch, a Mos set meal. 12.30pm, i
was happily eat-chat with SP KKB G. how idyllic.

well i am quite free for next next week.
only working on the Wednesday. haha why?
the look generous but stingy wanted to
save wages therefore they kept us away
from work and need not pay us. miser.

if everyone steady we can just leave before CNY
and let them get frantic. the supervisors will
then need to do data entry themselves. at that
moment i bet they cant even feel their own hands
already lah. HAHAHA all numb! woahh!

phew felt damn great after i rant!

goodnight!