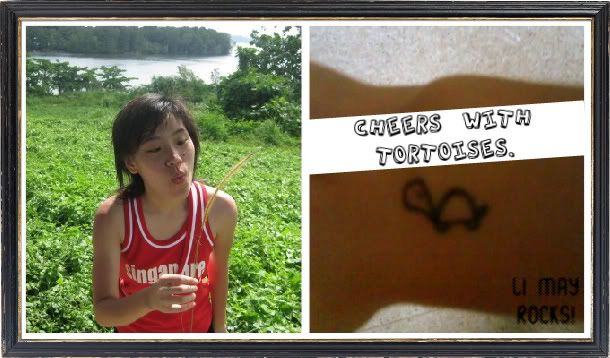 Hello folks, greetings to you. My big name is GOH LI MAY, call me Li May will do(:
6 bags full
Date:
Tuesday, January 6, 2009
Time:
12:52 AM
worked only 5 pathetic hours for today.
what can i do with $25? it's so-not enough
even for me, alone to go my Swensens lah.
2 hours or less, data entry. 1 hour FULL
was lunch. 2 hours or more, i was shredding
papers, year of 2000 document papers!
it was so uber fun. wahahaha.
paid me to shred paper.
i was like feeding the machine
paper?
nah nah, take, eat!
at a moment JH came out and kpkb about Nigel for asking most of us to knock off early.
yes knock off early mean you can go home early and rest right? ya ya ya everyone knows.
but their knock off early mean
WE DONT NEED YOU ALREADY, GO HOME SO WE DONT NEED TO PAY YOU
understand? yeah. think what? Noel Cup arh? we soccer ball? happy happy kick us
around the field, not happy kick out of the field. knnb ccb. hey that's really not a
good way to manipulate us around okay? pissed.
well if you can kick me like that,
i assure one day i will kick you too.
the stacks of paper was there at the right time for us to vent our anger.
we treated the paper as if it was.. haa i bet you know the answer! rofl.
just as we were having much more more more fun and laughter, 2 lass
came subsequently. they reprimanded us that we were noisy and told
us to keep quiet. 1 ugly 1 pretty. the pretty one at least spoke in a
better tone than the ugly one, damn rude. arhh no wonder you are
so ugly like a witch. Irene's
descendant? very good right place for you.
an advice to you. if we are noisy than stuff your ears with ear piece or
wine cork if those doesnt help than i will offer you some chewing gum
which i chewed last week. cherry favour. DEAL? steady lah.

punched out at 4pm.

in a mere 2 hours or so i shredded 6 bloody bagfuls of ____!
urmm with the help of 5, 6 or 7 lovely colleagues yeh? haa.

damn me(yes, me?) why on earth grow so many wisdom tooth?
the 2 at the bottom is enough to kill me. now growing the above
one. fuck sah. more wisdom tooth more wisdom? wisdom

de tuie

,
pain the more sah. moreover each have different characteristics.
bottom left grew half slanted. bottom right, grew half damn pain.
upper right grew one third with an extra corner poking out of the
gum. wtf? out to torture me only. if i really extract them i think
i will go mute for 3 months arh. sort of training for me already.

if i really cant talk this blog will be a great help.
all my rantings & raving, criticism, craps & rubbish
will all land here. can be published into book 1 book 2
book 3. best seller... HA HA HA.

okay nightmares to you!
diving into my bed now(:

Farewell.