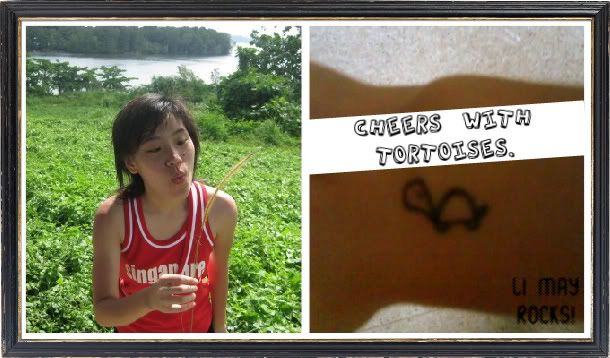 Hello folks, greetings to you. My big name is GOH LI MAY, call me Li May will do(:
CNY
Date:
Wednesday, January 28, 2009
Time:
11:39 PM
yes i'm back:D

any ang bao for me?
anyway, late or whatever,
Happy 牛

(niu-ox;new)

Year

to everyone.
may everyone have an ox-picious year.
like the ox, let us be hardworking and strive
through this bad economy year.
and thereafter we'll be able to reap what we sow.
when i was young around primary 5 or 6 i will really say 恭喜发财, 红包拿来.
hehehe. then immediately i will suffer a sharp pinch or a hard kick from my
parents. time passes and people change. now i only like to say, i mean yell,

1..2..3, HUAT ARH!
although this is the year of the ox dont splurge too much on
牛肉(beef), 牛奶(milk) or even 牛仔裤(jeans) okay? hahaha.
Cheers.
so JAE posting results will be out this 30Jan Friday.
haix. i think they will bash me into RP? predestined,
so be it lor. if i were to really
Once bitten twice shy
then things wouldnt turned out this way now. but
too bad i wasnt shy at all... haha, so i'hv to accept
the fate. and still hope that i can do better to go
in to the school i yearned for.
okay at least i'm looking forward to the
clubbing night with A13 at St James this Sat.
mmm i think i need to catch some sleep now.
i have not been sleeping and my face is rotting.
hahaha, rofl.
Goodnight.