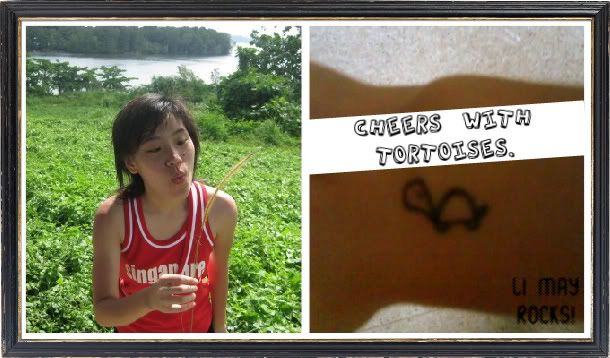 Hello folks, greetings to you. My big name is GOH LI MAY, call me Li May will do(:
Lousy pay day
Date:
Saturday, January 10, 2009
Time:
12:00 AM
O level results will be out in 2 days!
i'm so damn anxious and also terrified.
haix... really wonder how much will i
get this year. >20 or <20?best>



got my hair cut to reduce the blonde-ness.




i guess i wont be spraying because my




spray had been used up long ago. hahaha.



fucking job still expect me to report to work at 9am then collect results at 2pm. wtf? agrr...
i feel like biting them. pay day is today. wtf. tell you honestly lah i only received some
pathetic $700? huh? and $5 which the beggar at the bridge hesitate to accept too. knn sah.
my mum feeds me more lah. seriously i felt like being used. haix whatever lah. i wont stay
long because everyone knows i hate to be manipulated. i'm those that i can manipulate
you but you cant manipulate me. understand? haa. hey i am the survivor among Punggolites
JJ and JH okay? honoured leh. haha. without them like no next-of-kin, feel a bit weird
although i still have other endearing colleagues.



wait, one last thing...




that Ire_e is super sexy today!




weewoowit! i think she will be




having a one night stand? rofl.




with? ai ya... hehehe.





i was checking a batch and from my blind spot i could




roughly see a short figure in white walking in. then i




turned my head. wtf! strike 4D, top prize. i saw her




slagging flabby stomach. god damn!!! i need dettol,




bleach, dilute hydrochloric acid, concentrated hydrogen




peroxide ai ya the whole laboratory to aid my severely




hurt eyes lah.

please lah so old still keen to flirt.




i'm not exaggerating okay... that disgusting image is




etched in my mind permanently already lah. DAMN.



i think she's worst then that scarecrow in my nightmare.
okay i shall stop talking about her for the time being lah.

Bye.



arhh! now i'm afraid to sleep!