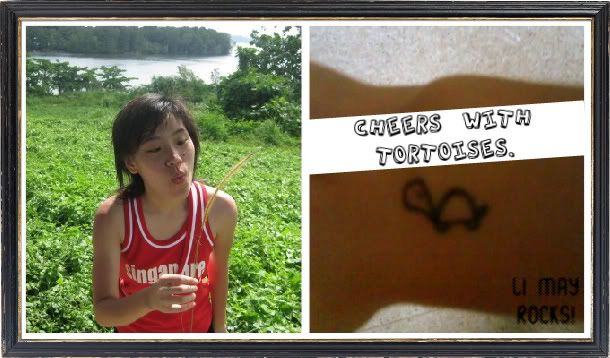 Hello folks, greetings to you. My big name is GOH LI MAY, call me Li May will do(:
Update update update
Date:
Sunday, January 18, 2009
Time:
2:25 AM
fat hope, dont ever think i'm dead.
i have been working morning shift this whole week
and all my energy was drained, totally dry to meet
those cut off time and of course to wake up early in
fact. i dont really have energy-boosters in the morning
shift. almost everyone was half-dead, zombie-like when
they marched into the office OPs Admin department.
i read those dear colleagues blogs and realise i missed out a lot of fun lah.
hey, thinking back i should be working night shift leh because i am night-
people, the nocturnal one. sleep at 4am wake up at 5pm kind. ohh, too bad.
i'm going away and will be back after the season
so i see no chance to be in the night shift anymore.
moreover i had put a fullstop to that job already.
well, so another week is going and gone soon.
it's going to be Monday soon and.. oh ya speaking
of Monday, i remember something big on 12Jan.
last year i got an horrendously atrocious gross point of 32 for L1R4. this year? yeah it is atrocious too but not as last year lah. i'm so-not going to announce here so as to retain this very not-thick skin of mine. just glad that i got some B for my English. and most importantly the courses i am eligible this year filled more than half a page of Form A. while last year the courses did not even finish a line, all Vs. for now i'm just hoping hard, crossing my fingers that i can squeeze myself into a course in Poly. down the row will be TP then SP NP NYP and lastly RP lor(: bought me to this and better end me with some thing like this okay? like OY said i cant just stand here anymore i need to move on.
alright ending this post by declaring that i'm still
equally sad and happy with a little of angry from
that result that is going to stay with me this life.
with that i shall sign off now.
do enjoy the week followed by the season.
Farewell.
Note: those look like last words but for your info i'm not dying arh.