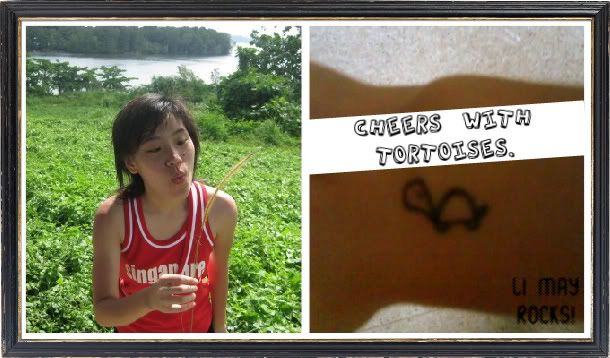 Hello folks, greetings to you. My big name is GOH LI MAY, call me Li May will do(:
Danger
Date:
Sunday, March 15, 2009
Time:
6:26 PM
i see the red light blinking.
The greatest danger for most of us is not that our aim is
too high and we miss it, but that it is too low and we reach it.
supposedly, my intention to tag along with the band members to RP for their sound test
today
was to hitch the ride and settle some enrollment matters. hahaha, save bus fare mah.
However
last night, i found out that there wasnt a need anymore. nevertheless i still woke
up early in the
morning with 5 hours of sleep and washed up. walked to school with JH and
Shu then set off to
RP's auditorium on a chartered bus with them.
on the bus i realised that these people really very.. arh, dont know
how to say leh. because they had been going to school and wearing
that either green blouse and skirt/pants from Monday to Sunday.
hahaha.
yeah, so i hope their hard work does not pay off.
they spent 4 hours in the auditorium while 4 seniors,
Dave Shu JH and i sat in the audience seats. we were
just plainly listening to them lor. played some games,
commented and also visited the toilet several times.
the teachers were so good to them lah
bought them food to fill their stomach.
wah lau ehh. Shu and i almost bought
cup noodles to gorge when we went to
the 7-Eleven store lah. hahaha.
conclusion of their sound test today...
mmm... seriously i think that they still need to work a lot
more on both of the pieces in order to get at least a Bronze.
what they played in the morning was really insufficient.
actually i gave my comments during their debrief session
but i doubt they understand what i was trying to portray
lah. hahaha. nevermind, just.. just be your best. Put your
heart, soul and mind into playing the pieces accordingly(:
i love rainy days.
i hate rainy days.
i love rainy days because it is so cooling.
i hate rainy days because it stops me
from going out! AGRR.
alright got to go.
Farewell.