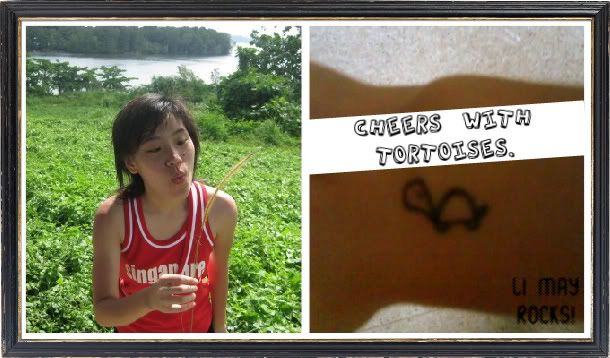 Hello folks, greetings to you. My big name is GOH LI MAY, call me Li May will do(:
2 days
Date:
Sunday, April 5, 2009
Time:
1:06 AM
whoo... i was so-enjoying the past one week.
just plainly wake up, online, eat, tv and
sleep again. hahaha. cheers to rotting.
if you ask me why do i wake up in the morning,
my answer will be i wake up in the morning so
that i can go to sleep at night! haa.
went to Pulau Ubin on the Thursday and got myself burnt.
fed myself to the ravenous mosquito there too. i'm indeed
a magnanimous person because i knew i will get bitten and
still went to get bitten. HAHAHA. wtf.
enjoyed the trip.
especially cycling up to Chek Jawa.
shiok arh, my legs almost detached.
and yesterday went to Changi Airport.
damn, went there for departures before but never knew
that that place is like a maze. haha! i was holding on to a
map and eyes busy reading the signs above us. hahaha.
fetched Shu and went to dine in T2 Swensens. took a cab
back to Punggol and finally that bitch can go to sleep.
today? nothing earthly lah.
went gym for a work out and back home.
laid like a dead log on the bed watching
Hot Shot in DVDs. dream a-little too...
mmm... i want to play basketball in a team again.
wtf it's 1.40am now.
i think there will be a public holiday about 2 days later.
i heard that it is the birthday of a very royal princess leh.

WAHAHAHA! all hail...
okay my bed is hinting me! goodnight! (good morning too)
Farewell.