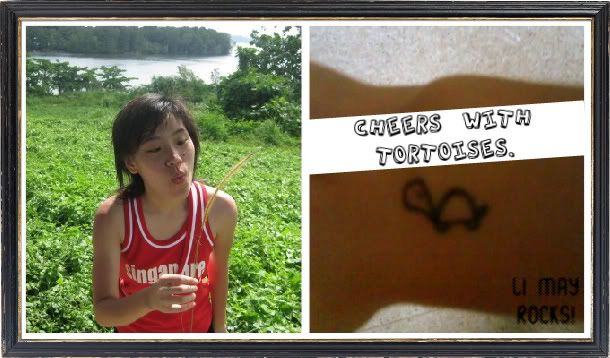 Hello folks, greetings to you. My big name is GOH LI MAY, call me Li May will do(:
end
Date:
Thursday, April 9, 2009
Time:
3:50 PM
hello, back to update(:
okay my birthday was like 2 days ago, yes?
dined at Fish & Co for dinner and went back
home to blow my 19th birthday cake.
i blew 10 candles in total, 1 big and 9 small.
next year my job will be easier, 2 big ones.
haha. damn old already. next next year i
can buy a house liao. you see that? can you
imagine? yet i felt that 15 is like 2 years ago.
omfg.
SYF for secondary bands ended yesterday.
this year's result is so damn shocking, bizarre
for i dont know how to describe it any further.
firstly i would like to salute to KRSB for their spirit and performance.
steady sah.
reckoned that the 7 formidable adjudicators were lenient for the first few days
but what about the last 2 days? many Bronze and Sliver emerged when some are
constant top Gold bands throughout the years. wth happened? and this year there
are 9 Gold with Honour bands. 9 leh whereas 2 years back there were like 3?
hahaha 3 times more. cool...
there wasnt such medal like GwH before. it only surfaced in 2005.
it is supposed to be special. however if there are so many GwH
bands around, i dont see any special in the GwH award already.
till here, i think it's time for everyone to move on, right? haha.
got to go,
go to complete
reading my book.
Farewell.
PS: you are ___ for that 10 minutes on stage and not for eternity.