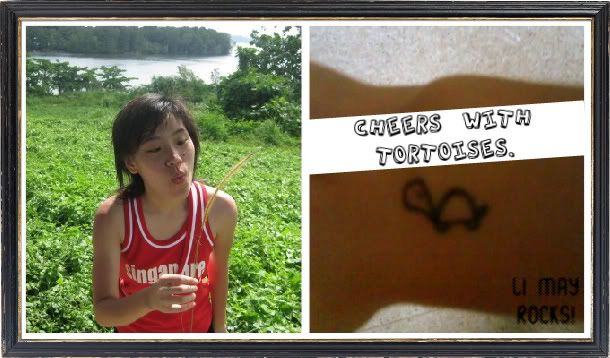 Hello folks, greetings to you. My big name is GOH LI MAY, call me Li May will do(:
Friday Flyer
Date:
Sunday, May 24, 2009
Time:
2:47 PM
Went to the Flyers on Friday.
the trip was nothing worth to be
excite about
because
the
scenery we saw wasnt paranomic.
alright, maybe we went up at the wrong time- at night.
seriously the tickets look nicer.
on the wheel.
look outside, everything is so dark lah.
i guess this is the only magnificient sight on the flight.
*Note: the white white spots are not stars they are lights reflection(:


same goes to this.
and then we were introduced to a pile of dirt -constructions.
next was, a large green land with numerous of lamps.
guess what is it.
nahh, not any plantations, farms or any stupid answers from you.
it's a golf course lah. i think this is a waste land.
when we were at the peak, the cars resemble ants crawling,
slowly. this is the expressway which triggered my imagination
to something extreme. HAHAHA.

end the day off with a dinner over at Popeye chicken and biscuits.
we had a good laugh again. haha after so long the same laughing stock
joker of the day is still Black Colour Tan Jue Pei with the conclusion of
Angsana is a root. WTF?! hahaha! roflmao.