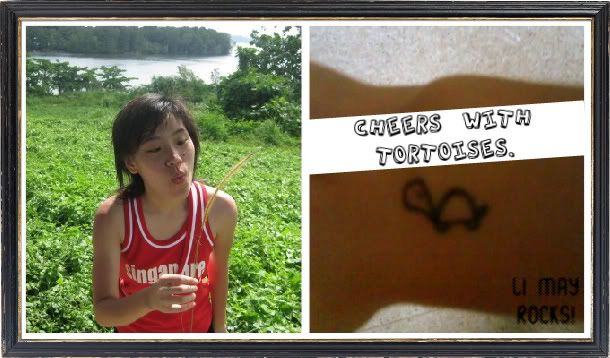 Hello folks, greetings to you. My big name is GOH LI MAY, call me Li May will do(:
School as usual
Date:
Sunday, July 5, 2009
Time:
7:51 PM
i think i prefer e-Learning. haha.
obviously, school back to normal is boring!
well anyway i had a awesome Saturday with 13A.
we went to Punggol End for a picnic-barbecue. haha. we met in the late afternoon,
went to pick up some groceries over at Cold Storage. we hopped into 2 cabs down
to Punggol End. chose a spot, spread the mats and settled down. nutella, ham and
cheese with bread as starters. Damn that $18 charcoal which took us a long and
hard time to ignite. thus we only manage to grill our food at 8pm? what a loser
despite we have 2 scouts there. haha! initially we thought that the food we bought
might not be enough to fill our ravenous stomach but no we were wrong, all of us
were bloated before all the food were wiped out.
stopped our "cooking" and all gazed at the sky.
the bright moon and twinkling stars greeted us.
the moment was a little
nostalgic.
moving on, we went crazy.
we got up and sang, danced.
hahaha. we were all doped.
doped by a very special "drug",
highly addictive though(:
wrapped the day up really late again.
alright we shall all look forward to this Saturday-trip to Sentosa.
Concurrently, next Saturday's night @ St James. wheee~
I say Saturday is life.
nb, i cant post pictures.